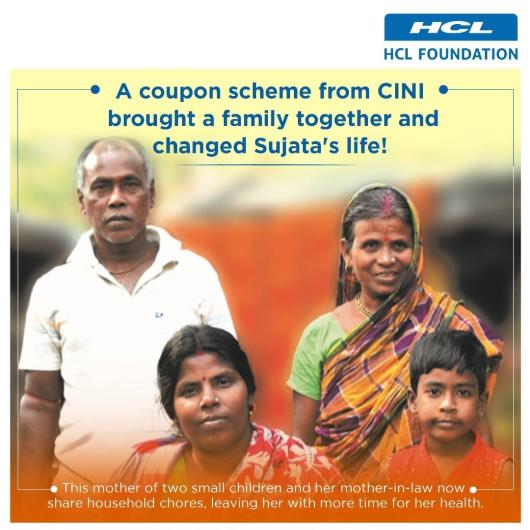 #HCLGrant Recipient 2017, Child in Need Institute @CINI with support from #HCLGrant aims to create a community based safety-net for better health & nutrition outcomes for children, adolescents, and women of West Bengal. One of the objectives of HCL Grant is to award financial Grant to #innovative, #replicable, #scalable, #sustainable & time-bound project, proposed by #NGOs which are committed towards transformative rural development, in the categories of #Environment, #Health & #Education.
CINI the recipient in the health category,  has introduced an innovative "coupon incentive" to ensure success of their program in the remote village of Bonhogla in Belsingha-II Gram Panchayat area of Falta block. This story is about Sujata Mondal and illustrates how incentives can act as a tool for bringing about social change. 
Sujata conceived for a second time in April, 2018. Sujata and her husband were overjoyed, but worried about her health as she suffered from malnutrition. The local Aanganwadi worker advised her to regularly visit the ICDS center so that she can gain insights regarding handling her pregnancy with care. However, Sujata remained absent for most of the sessions as the household responsibilities did not permit her the time to spot-feed at the ICDS center regularly. Sujata recorded a mere increase of only 500 gms in the 5th month of pregnancy. A joint visit was made by the ASHA, AWW and the ANM to Sujata's mother-in-law to counsel them on sharing the household responsibilities.
This is where the "coupon incentive" played a role. The concept was that each pregnant woman will receive coupons for timely up-taking of all her pregnancy care essentials. Each coupon came along with a token point. It was decided that these coupons will be given every month to the pregnant women and at the end of the pregnancy term, the woman collecting the maximum possible points will be recognized in the community as 'The woman who took the best pregnancy care'.
Gradually, Sujata's mother in law started helping her with the household chores so that she can make time for going for spot-feeding also attend the meetings at the ICDS centre. Sujata delivered a healthy child weighing 3.3 kgs and she and her baby are both hale and hearty. #HCLGrantImpact #HCLFoundation
For more information on HCL Grant, please visit www.hclgrant.hcltech.com