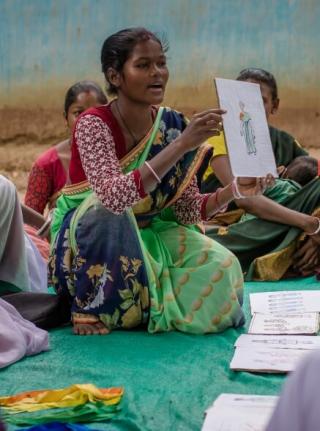 HCLTech Grant
About us
Started in 2015, the HCLTech Grant is a Corporate Social Responsibility (CSR) commitment by HCL, through HCLFoundation, to strengthen and empower NGOs, engage with them, as well as recognize them for their path-breaking work. Currently focused on rural development, the HCLTech Grant is awarded in three thematic categories, namely Environment, Health and Education. The Grant is designed to support breakthrough award-winning projects to NGOs, that have a proven track record of evident impact, high credibility and distinct ability to deliver. NGOs that reach out to marginalized, isolated, underserved and underdeveloped rural communities in India, and work jointly to achieve sustainable socio-economic development.
The democracy of India rests on three constitutional estates - legislative, bureaucracy and judiciary. The free press or media has long been recognized as the fourth. HCLTech Grant is a step towards recognition of the rise of the Fifth Estate - the Non-Governmental Organisations (NGOs). The Fifth Estate has now become a critical agent of change, playing a decisive role in building a stronger, future-ready India.
A unique aspect of the HCLTech Grant is that the organisations are recognized not only based on the "idea", but also for their power to transform these ideas into reality and thereby, transform Indian villages.
HCLTech Grant awards the winning NGOs in each of the categories of Environment, Health and Education, a grant of ₹ 5 Crore (~US$0.65 Million) for a 4 years' project. The HCLTech Grant rewards the other finalists too, who are doing great work in their own right. So the 2 other finalists in each category receive a grant of ₹ 25 lakhs (~US$0.03 Million) for a year-long project which is mutually agreed with HCLFoundation after the final Jury meet. Thus, the total committed fund for HCLTech Grant is ₹16.5 Crores (~US$2.2 Million), for Edition IX. Besides this, each year, work of up to 30 shortlisted NGOs, 10 per category, has been photo-documented and published in The Fifth Estate – The HCLTech Grant Compendium – Volume I, II, III, IV, V, VI & VII. This is possibly the first-ever, sector-wide, comprehensive compendium of highly credible NGOs, highlighting their proposals submitted for HCLTech Grant, striving towards the empowerment of rural India. Each one of these case studies is examples of best practices in areas of environment, health and education, with evidence of meaningful transformation in the rural belt of this diverse nation.
So far, the HCLTech Grant has already committed ₹ 130.45 Crore (~US$15.8 Million) towards high impact projects. Through this commitment, the HCLTech Grant supported projects aim to cover 27,54,336 people in 27,394 villages in 131 districts across 22 states and 2 Union Territories of India, of which the projects have already covered more than 18 lakh beneficiaries.
HCLTech Grant aims to achieve sustainable rural development by supporting NGOs that are doing path-breaking work, anywhere in India. HCLTech Grant has following specific objectives:
Award financial Grant to innovative, replicable, scalable, sustainable & time-bound projects, proposed by NGOs which are committed towards transformative rural development, in the categories of Environment, Health & Education.
Identify NGOs that have made significant impact in rural transformation and publish a compendium capturing work of these NGOs, such that they become globally visible for their efforts.
The thematic grant categories
The HCLTech Grant is awarded under 3 thematic categories - Education, Environment & Health. Below is an indicative list of sub-thematic areas that may be proposed to seek funding under HCLTech Grant.
*Please note: This is not a comprehensive list and is meant to give NGOs a broad idea of the sub-themes that fall under the purview of HCLTech Grant
Conservation of environment, the indigenous flora and fauna.
Access to affordable, reliable, sustainable and clean energy for all.
Combating climate change and its impact.
Protecting, restoring, and promoting sustainable use of terrestrial ecosystem and wetlands
Conservation of natural water bodies, including river rejuvenation, oceans, natural springs, lakes and others.
Combating desertification, deforestation, land degradation, biodiversity loss, pollution and promoting use of renewable resources. (Please note – proposals that come from agriculture domain only, without any environmental impact, will not be considered under Environment category)
Wildlife conservation and preservation.
HCLTech Grant complements and contributes to National Missions & Sustainable Development Goals. Inclusive and gender transformative approaches are encouraged and prioritised under the HCLTech Grant screening process.
Equitable & Universal access to Health for all segments of population.
Access to clean drinking water, sanitation and hygiene facilities, prevention and elimination of water borne diseases.
Maternal, adolescent, child health, nutrition and eradication of communicable and non-communicable diseases.
HCLTech Grant complements and contributes to National Missions & Sustainable Development Goals. Inclusion and Gender-Transformative approaches are underlying principles for HCLTech Grant.
Right to Education for All by upscaling initiatives that strengthen Early Childhood Care & Development (ECCD), Elementary, Secondary, Higher Education, Adult Literacy & Inclusive Special Education
Education that promotes learning opportunities through skill development and confidence building, including digital literacy.
Education that leads to better livelihood opportunities and improved income & better living for young people and adults.
Holistic education that encompasses co-scholastics such as sports, art and craft, performing & fine arts, promotion of culture, orientation on national heritage, theatre, provides opportunity for not only overall development but also sustainable livelihoods.
Equitable, inclusive, technology enabled and relevant quality education, leading to gender equality and human resource development.
HCLTech Grant complements and contributes to National Missions & Sustainable Development Goals. Inclusion and Gender-Transformative approaches are underlying principles for HCLTech Grant.