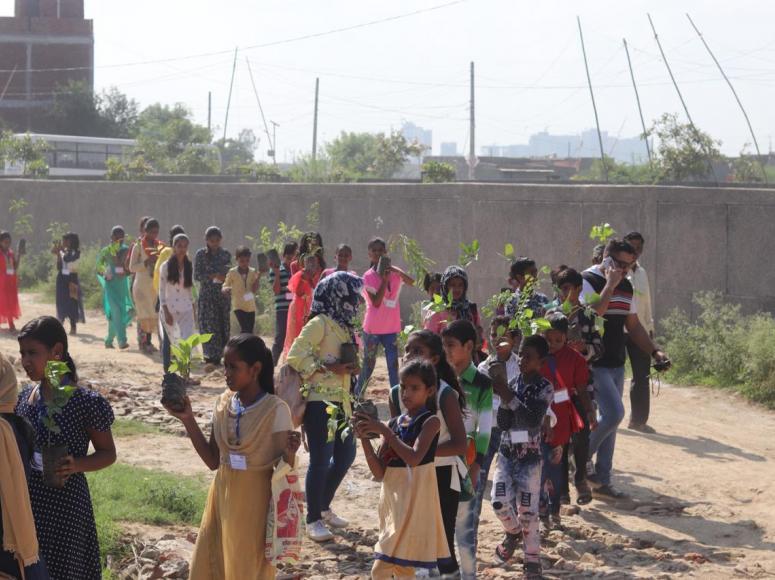 6000+ saplings planted at HCL Foundation's Mass Afforestation Drive at Uday Upvan Sorkha on HCL Day
6000+ saplings planted at HCL Foundation's Mass Afforestation Drive at Uday Upvan Sorkha on HCL Day
HCL Foundation planted more than 6,000 saplings on the occasion of the 43rd HCL Day Celebrations on August 11th 2019 at the Uday Upvan Sorkha (Mini Urban Forest) in partnership with District Administration Gautam Buddh Nagar & NGO partner Give Me Trees.
Ms. Roshni Nadar Malhotra, Vice Chairperson, HCL Technologies - Executive Director & CEO, HCL Corporation, and Shri Brajesh Narain Singh, District Magistrate –  Gautam Buddh Nagar, were the special guests at the Mass Afforestation Drive organized on HCL Day.
The drive saw overwhelming support with participation from more than 6,000 people including children from Govt. schools in Noida (supported by HCL Foundation), HCL Yuvankendra, Gurukul (Bridge Education Centers), NGO Partners, HCLites, Power of One Community Champions, RWA's, Shiv Nadar School, Shiv Nadar University, Amity University, Govt. officials and residents of Noida.
The Mass Afforestation program is part of Harit – The Green Spaces Initiative by HCL Foundation which aims to combat climate change through ecosystem conservation and restoration. An awareness campaign was also organized at Uday Upvan Sorkha where the participants were educated on the various environmental issues- by NGO partners and subject matter experts.
As per the Forest Survey of India Report  2017, only 1.56% of the geographical area of Gautam Buddh Nagar district has forest cover, whereas the national average is 21.54%. The district is also one of the 256 water-stressed districts of India as per the Central Ground Water Board, 2017 report. To address this crisis, HCL Foundation has partnered with District Administration Gautam Buddh Nagar, where land is assigned by them and afforestation responsibility is taken by the HCL Foundation, as a part of HCL's CSR work.
The land greened in this process becomes a 'mini-urban forest' and hence named Uday Upvan. HCLF has also partnered with the District Administration to conserve and restore traditional water bodies in the coming years.
Around 4.5 Ha of such land was assigned to us in the Year 2017 in Sorkha, Sector 115, NOIDA. You will be happy to know that on this land, which we now call as Uday Upvan Sorkha Phase I,II & III, we have planted more than 34,000 saplings of more than 36 native species in less than 2 years with the survival rate of 92.3%! Thanks to the commitment and efforts of the HCL Power of One Community Champions who have dedicated volunteering hours to ensure saplings survive the harsh weather conditions.
These upvans not only enhance urban green cover but also increase native biodiversity, reduce temperatures locally, and support groundwater recharges to a great extent. Based on the success of this model, another 9.3 Ha land and 51 water bodies have further been assigned this monsoon, to replicate our 'Uday Upvan' model. We aim to plant more than 50,000 saplings on the assigned land and conserve these 51 water bodies, thus developing much-needed green cover and conserve water in this district.  
Give Me Trees Trust and INTACH are our NGO partners in this journey and we sincerely appreciate their commitment. We will have more NGO partners join us soon.
We will keep you updated on more from Harit – The Green Spaces Initiative by HCL Foundation.
For more information, please write to:
 
Dr. Santanu Basu, Manager – Green Spaces – Santanu.basu@hcl.com